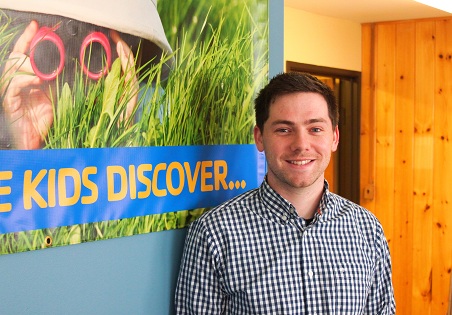 YMCA Camp Ockanickon, Inc. recently hired Matt Foran to be the new boys Overnight Camp director at our 111-year-old Medford organization. Before arriving at Ockanickon in early February, Matt had been the program director at Camp Ohiyesa, part of the YMCA of Metropolitan Detroit. He brings with him six years of experience as a camp director in both overnight and day camp programs, and he's a licensed lifeguard instructor.
Matt holds a Master of Arts in Education from the University of Michigan and a Bachelor of Arts in English from Michigan State, and he also taught Language Arts and Creative Writing at Deer Trail Academy in Oxford, Michigan.
Matt's Ockanickon office walls are adorned with sepia-toned photographs of former campers, camp directors and trustees, and he says he has an earnest desire to continue the proud traditions of Camp Ockanickon. "I'm coming here with a real sense that I want to uphold the standards of Ockanickon, to honor what the camp has come to mean to this community."
With his background in education, Matt believes that the summer camp experience can do wonders for children. "A lot of what we know about youth development, education, and bringing out good qualities in kids, can best happen at camp," he said. "Take curiosity, for example. We have 800 acres of places to explore. They can try something they haven't tried before, with mentors and role models to help along the way. And camp is great for skill-building. Whatever their skill level at something, they can get better. They just have to try, listen and then work at it."
Too often, Matt says, kids develop a fixed mindset. "A camp experience helps kids develop a growth mindset. It's pleasurable for the brain to accomplish something that seems just out of reach; kids feel the payoff for their hard work. That's why summer camp has been around for a long time and is valued."
Our CEO, Mark Dibble, had this to say about the organization's newest staff member. "We're so excited to have Matt. He brings a breadth and depth of experience; drawing on many successful years in the YMCA camping movement. Matt's experience in the camping field is a huge asset, second only to his seemingly boundless energy and ideas. We're very excited for him to be a part of our camp family."
"Matt and his family are a welcomed addition to our camp family. We're so happy they're here and he's part of the team," Mark added.
Matt has a wife, Katya, and a son, Valor, who is 15-months-old.
"My hope is to instill grit and determination in our campers," Matt continued. "I feel so glad to be here, and I hope people in this area know how lucky they are to have a place like this in their community. I'm going to do my best to uphold the time-honored Ockanickon standards," he said, pointing to the old photographs surrounding him. "I owe it to these guys."
To reach Matt, email matt@ycamp.org. Or call him at 609-654-8225, Ext. 1524.